Hayes Manufacturing Company Limited
Founded
1922
Founder(s)
Douglas Hayes
Defunct
1975
Headquarters

Vancouver, B.C.

,

Canada

Industry
trucks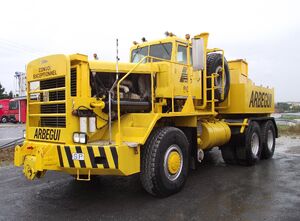 Hayes Manufacturing Company Limited was a Vancouver-based Canadian manufacturer of heavy trucks famed for their durability and a revolving bunk system. Hayes built both highway and off road trucks, particularly for the logging industry.[1]
The truck hood ornament was a die cast, chrome plated, 5 pound bear or a bronze cast bear. The chrome bear was found on the clippers and the bronze was off the square nose logger with butterfly wings. There was also a small bear ornament on each door.[2]
The British Columbia company was established in 1922 by Douglas Hayes, a parts dealer, and partner W. Anderson from Quadra Island. A large factory was built on the False Creek flats in Vancouver in 1928. The company eventually had over 600 employees and three plants.
Mack Trucks bought the Hayes Truck company in 1969, selling it in turn to Kenworth/Paccar, who in 1975 closed the Hayes plants.
Other Hayes logging operations
Edit
In addition to operating the truck company, the founder's son, Donald Hayes, continued and expanded family logging operations, establishing Hayes Forest Services Limited in 1956. In 2006, Donald P. Hayes, President, and grandson of the founder, proudly accepted the award for being one of Canada's 50 Best Managed Companies - Public or Private.[3]
References
Edit
External links
Edit
Ad blocker interference detected!
Wikia is a free-to-use site that makes money from advertising. We have a modified experience for viewers using ad blockers

Wikia is not accessible if you've made further modifications. Remove the custom ad blocker rule(s) and the page will load as expected.