For warning devices often called hooters, see Horn and Steam whistle.
Hooter is the name given to a ? scale live steam model traction engine based on a Burrell design.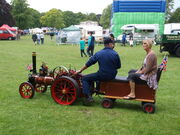 add details here
References / sources
Edit
Under construction - please add missing companies / brands

Current
Defunct
Kits
Working models

...
Ad blocker interference detected!
Wikia is a free-to-use site that makes money from advertising. We have a modified experience for viewers using ad blockers

Wikia is not accessible if you've made further modifications. Remove the custom ad blocker rule(s) and the page will load as expected.