International B-100



International 1960 B-100 pickup at American Truck Historical Society show, Fontana, California, 2004

Manufacturer
International Harvester Co.
Introduced date
1959
Discontinued date
1960
Preceding model
A-100
Superseded by
C-100
Capacity tons/GVW/GCW
½-ton, 4200 lb GVW
Engine
Make
International
Model
Black Diamond BD-220 (BD-240, V-266 optional, BD-220 in show truck)
Fuel
gasoline
Cooling
water
Cylinders
6 (V8 optional)
Displacement ci / L
221 ci (240, 266 optional)
Power HP @ rpm
112 @ 3800 (141 @ 3800, 155 @ 4400 optional)
Transmission
Gearbox make (model)
International
Gearbox type
syncromesh
Gears (forward speeds)
3 (overdrive, 4-speed, 3-speed automatic optional)
Axles & drive
Wheels/drive
4x2
Tires standard/optional
6.70-15 4-ply (on show truck) / 7.10-15 6-ply
Other
Shipping weight
3604 lb (with V8)
List price
$2151 (with V8)
International B-series light and medium-duty models used the same cab as the previous A-series, but were restyled with a new bright mesh grille and vertically-stacked dual headlights. Pickups in the B-line were available with Bonus Load boxes, which were wider inside than the previous wide-body style. The big news for 1959 was the introduction of all-new V8 engines. With its modern overhead-valve V8, International finally caught up with all the other makers of light and medium-duty trucks. International was the only maker to build a small-block V8 specifically for truck duty instead of modifying a passenger car design. The B-100 series was made up of the 4200 lb GVW B-100 model and the 5000 lb B-102. Available engines included the 112-hp Black Diamond 220, the 141-hp Black Diamond 240, and the 155-hp V-266.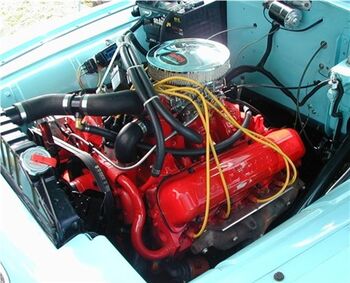 References / sources
Edit
Crismon, Frederick W. (1995). International Trucks. Motorbooks International, Osceola, Wisconsin.
Mroz, Albert (1996). The Illustrated Encyclopedia of American Trucks and Commercial Vehicles. Krause Publications, Iola, Wisconsin.
External links
Edit