McCormick International B-275



McCormick International B-275 as sold in USA, 1960

Model history
Model introduced
1958
Model discontinued
1968
Model status
Discontinued Discontinued
No. produced
54,211 (not including 1968)
Preceded by
New model
Superseded by
International B-414
Engine Specification
Engine make
International (Great Britain)
Engine model
IHGB BD-144
Fuel type
diesel
Power hp
35 engine, 33 pto, 31 drawbar
Governed rpm
1875
Displacement cu in /(litre)
143 ci
No. of Cylinders
4
Bore in (mm)
3.375"
Stroke in (mm)
4"
Cooling system
water
Naturally aspirated, Turbo or Supercharged
NA
Transmission Details
Transmission type
dual-range sliding gear
Forward
8
Reverse
2
Drive
2-WD
General Data
Linkage Category
Category I or II 3-point
Tyre Sizes (std/options)
Front
5.50-16 4-ply
Rear
11-28 4-ply
Tractor Dimensions
Length (inches/metres)
112"
Width (inches/meters)
64"
Height (inches/meters)
59"
Weight (nominal) lb/kg
3520 lb
Turning circle (nominal) inches/meters
20 ft
Wheelbase
74"
Other info
Factories
Idle, Bradford, England (former Jowett car factory)
India (Mahindra Tractors)
Plow rating
2-3
Nebraska Tests No.
733
Approximate Cost new in (year)
$2755 (1961)

The International B275 was built by International Harvester at the former Jowett car factory in Idle, Bradford, England. It was imported into the USA from 1959 to 1961 where it was known as the McCormick International B-275. Some were also built under license by IH's joint venture in India, Mahindra Tractors.
Note

In the UK they had McCormick on the badges but they are generally Referred to as the International B275 The model number being hyphenated in the roundel on the bonnet sides but not generally when described in print articles. (very inconsistent & confusing).
Model history
Edit
For Company history see
Main article: International Harvester
Model details required.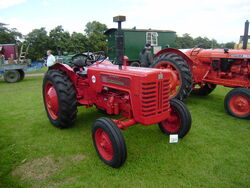 Model History in USA
Edit
The McCormick International B-275 was imported from England where it was built by International Harvester Great Britain. While International Harvester's American-made tractors of the 1950s used the McCormick brand name for row-crop models and International for standard-tread and utility wheel tractors and crawlers, the B-275 used both names, with McCormick in small letters and International in larger letters. The B-275 was roughly the size and weight of the International 340 Utility but was a totally different British design. The engine was the British built International BD-144 engine a 143ci 4-cylinder diesel. The tractor had a dual-range 8-speed transmission and a differential lock, not normally available on American tractors at the time.
Tractor Comparison, USA models
Edit
The McCormick International B-275 seemed to offer the best value in its class (30 pto hp diesel-powered utility tractors), offering 33 hp for a $2755 in 1961. The Fordson Dexta, also imported from England, was very close, with 31 hp for $2950. As shown in the table, all of the other makes ranged upward in power and/or price.
Timeline
Edit
1959 - McCormick International B-275 first imported into USA from England
1961 - International B-414 replaced B-275 in USA
Factory locations
Edit
Built by International Harvester Great Britain, Ltd., Doncaster, England, at the Bradford factory.
Specifications (USA)
Edit
See Infobox for basic details
International (Great Britain) 4-cylinder diesel engine
Dual-range 8-speed transmission
Adjustable front axle
Differential lock
Electric starter and lights
Hydraulic system with Category I or II 3-point hitch, depth control
Constant running pto
Standard tires

Front: 5.50-16 4-ply
Rear: 11-28 4-ply
Variations and Options
Edit
Belt pulley
Swinging drawbar
Optional tires
Serial Numbers Information (USA)
Edit
Year
Serial no. run
start[1]
Serial no. run
End[2]
Number Built
Notes
1958
501
632
132
Production calculated from serial number range
1959
633
12160
11528
1960
12161
29467
17307
1961
29468
39539
10072
1962
39540
43119
3580
1963
43120
46417
3298
1964
46418
48976
2559
48173 -last tractor sold in US
1965
48977
51039
2063
1966
51040
52932
1893
1967
52933
54711
1779
1968
54712
Total built
54211
Not including 1968
List of known preserved models
Edit
Do you know of any International B275 tractors to add to the list ?
(please add details below with reg and/or serial number if possible);
IH B275 139 LTU SERIAL NUMBER 21815

Add extra photos here please.
See also
Edit
Collection related info
References / Sources
Edit
Please supply some relevant references or sources for information for verification of data.
External Links
Edit
Add any suitable (& Relevant) web links here
International Harvester range
International Harvester Germany range
International Harvester France range
International Harvester Cub Cadet range
International Harvester Cub Cadet range
Note this box is under development and contains Null entries as place holders
Please add any models with new articles to this list
Early Makes - pre 1940s

1940s to 1980s

Modern post 1980s

Independents
North America

Europe

India & Pakistan

Middle East
(Turkey, Iran,
Iraq, Syria etc...)

Far East
(Australasia, China,
Japan, Korea, Thailand,
Vietnam etc...)

South America
(Argentina, Brazil,
Uruguay etc)

Africa

Asia
(Russia, Tajikstan,
Uzbekistan, Ukraine)

Specialist types of tractor

Notable People - associated with the tractor industry

Inventors
Ad blocker interference detected!
Wikia is a free-to-use site that makes money from advertising. We have a modified experience for viewers using ad blockers

Wikia is not accessible if you've made further modifications. Remove the custom ad blocker rule(s) and the page will load as expected.