International Loadstar 1700



International 1968 Loadstar 1700 tractor at American Truck Historical Society show, Fontana, California, 2004

Manufacturer
International Harvester Co.
Introduced date
1962
Discontinued date
1978
Preceding model
B-170 series, BC-170 series
Superseded by
S-1824
Capacity tons/GVW/GCW
25500 lb GVW, 45000 lb GCW
Engine
Make
International (Perkins optional, in show truck)
Model
BD-282 (BD-308, V304, V345, D-354 optional, D-354 in show truck)
Fuel
gasoline (diesel optional and in show truck)
Cooling
water
Cylinders
6 (V8 optional)
Displacement ci / L
283 ci (304, 308, 345, 354 optional, 354 in show truck)
Power HP @ rpm
137 @ 3800 (131, 150, 193, 197 optional, 131 in show truck)
Transmission
Gearbox make (model)
International T-17 (Allison optional, International T-36 in show truck)
Gearbox type
syncromesh (automatic optional)
Gears (forward speeds)
4 (5, 6, 8, 10 optional, 5-speed with 2-speed axle in show truck)
Axles & drive
Wheels/drive
4x2
Rear Axle Make (Model)
International RA-30 hypoid (International RA-189 2-speed in show truck)
Tires standard/optional
7.50-20 8-ply dual rear / 9.00-20 dual rear (10-22.5 10-ply on show truck)
Other
Shipping weight
5580 lb
In 1962 the 23000 lb GVW, 36000 lb GCW International Loadstar 1700 replaced the 22,000/35,000 lb B-170 series conventional and BC-170 series short-conventional. In addition to the carryover BD-282 and V-304 engines, the 1700 was available with the BD-308 six, V-345 V8, and Perkins D-354 diesel. In 1965 the 18500 lb rear axle that was optional in the Loadstar 1800 was made available in the 1700. The maximum ratings for the 1700 were raised to 25500 lb GVW and 45000 lb GCW, the same as for the 1800 at the time. However, the 1800 used a larger front axle and higher capacity springs. In 1969 a new 9000 lb front axle boosted the maximum GVW of the 1700 to 27500 lb. The BD-282 engine was dropped and the 236-hp V-392 V8 was added. In mid-1971 the V-392 was increased to 253 hp. In 1972 the BD-308 and Perkins diesel were dropped and an optional Allison 4-speed automatic joined the continuing Allison 6-speed. Larger 10.00-20 tires also became available. In 1973 International began using net hp ratings for gasoline engines. The V-304 was rated at 147 net hp at 3,900 rpm, the V345 developed 157 hp at 3,800 rpm, and the V-392 put out 191 hp at 3,600 rpm. The V304 was dropped in 1974. In 1975 a 188-hp 2-barrel carburetor version of the brand new MV-404 gasoline V8 replaced both the V-345 and V-392.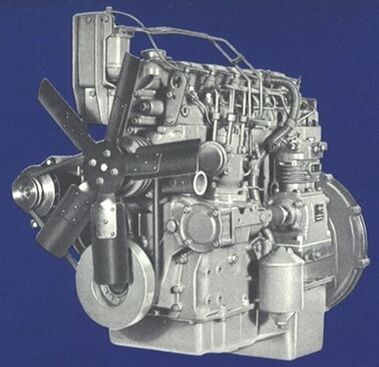 References / sources
Edit
Crismon, Frederick W. (1995). International Trucks. Motorbooks International, Osceola, Wisconsin.
Mroz, Albert (1996). The Illustrated Encyclopedia of American Trucks and Commercial Vehicles. Krause Publications, Iola, Wisconsin.
External links
Edit
Ad blocker interference detected!
Wikia is a free-to-use site that makes money from advertising. We have a modified experience for viewers using ad blockers

Wikia is not accessible if you've made further modifications. Remove the custom ad blocker rule(s) and the page will load as expected.