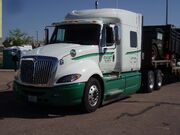 The International ProStar is class 8 commercial vehicle manufactured by Navistar at its Chatham, Ontario, Canada plant. International touts the ProStar as the most fuel efficient truck in the Class 8 segment.
This template is from wikipedia and needs a rewrite.
It is to demonstrate a "complex" navebox using sub groups to allow expansion

Military vehicles
Commercial Vehicles

Diesel Engines

Other

Tractor

Delivery Van

Retail Vehicles
Ad blocker interference detected!
Wikia is a free-to-use site that makes money from advertising. We have a modified experience for viewers using ad blockers

Wikia is not accessible if you've made further modifications. Remove the custom ad blocker rule(s) and the page will load as expected.