John Deere 6030

A JD 6030 with Dual wheels and economy 'Full Air Conditioning' kit
Model history
Model introduced
1972
Model discontinued
1977
Model status
Discontinued
No. produced
4,028
Preceded by
John Deere 5020
Engine Specification
Engine make
John Deere
Fuel type
Diesel
Power hp
175
Power kW
131
Governed rpm
2100
Displacement cu in /(litre)
531 cu in
No. of Cylinders
6
Bore in (mm)
4.75 in
Stroke in (mm)
5.00 in
Cooling system
Water
Transmission Details
Transmission type
Unknown
Drive
2WD/MFWD
Linkage Category
Unknown
P.T.O rpm
1000
Tractor Dimensions
Wheelbase
104 in
Other info
Factories
Waterloo, Iowa, USA
Plow rating

Unknown

Web site
http://www.deere.com/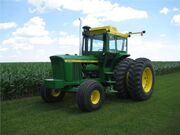 The John Deere 6030 is built by John Deere from 1972 till 1977. It featured a 175 hp (130 kW) John Deere engine. It was built in the Waterloo, Iowa, USA factory.[1]
Model history
Edit
For company history, see John Deere.
Introduced in the 1972 model year to replace the John Deere 5020.
Discontinued in 1977 and replaced by the ?
Preservation
Edit
Are any examples in preservation ?
References / sources
Edit
External links
Edit
Early Makes - pre 1940s

1940s to 1980s

Modern post 1980s

Independents
North America

Europe

India & Pakistan

Middle East
(Turkey, Iran,
Iraq, Syria etc...)

Far East
(Australasia, China,
Japan, Korea, Thailand,
Vietnam etc...)

South America
(Argentina, Brazil,
Uruguay etc)

Africa

Asia
(Russia, Tajikstan,
Uzbekistan, Ukraine)

Specialist types of tractor

Notable People - associated with the tractor industry

Inventors