John Deere Model M
Model history
Model introduced
1947
Model discontinued
1952
Model status
Discontinued
No. produced
45,799
Superseded by
John Deere 40
Engine Specification
Engine make
John Deere
Fuel type
gasoline
Power hp
18
Power kW
13
Governed rpm
1650
Displacement cu in /(litre)
100.5 cu in
No. of Cylinders
2
Bore in (mm)
4 in
Stroke in (mm)
4 in
Cooling system
Water
Transmission Details
Transmission type
Unknown
Drive
2WD
Linkage Category
Unknown
P.T.O rpm
550
Tractor Dimensions
Weight (nominal) lb/kg
2,600 lbs
Other info
Factories
Dubuque, Iowa, USA
Plow rating

Unknown

Web site
http://www.deere.com
The John Deere Model M was introduced in 1947, With a vertical 2 cylinder engine. It was built in Dubuque, Iowa, USA.[1]
Specification
Edit
It features a 18 hp (13 kW) engine.
A Crawler version the Model MC was added in 1949 due to demand for a compact crawler from vine yards and citrus growers.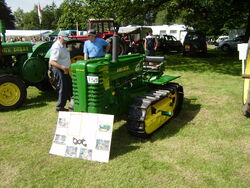 References
Edit
External links
Edit
Ad blocker interference detected!
Wikia is a free-to-use site that makes money from advertising. We have a modified experience for viewers using ad blockers

Wikia is not accessible if you've made further modifications. Remove the custom ad blocker rule(s) and the page will load as expected.