Ad blocker interference detected!
Wikia is a free-to-use site that makes money from advertising. We have a modified experience for viewers using ad blockers

Wikia is not accessible if you've made further modifications. Remove the custom ad blocker rule(s) and the page will load as expected.
(from wikipedia entry, revision required, with redefined links and machine list adding)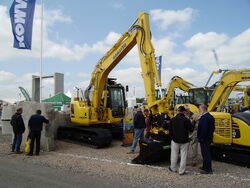 Komatsu is a Japanese company that manufactures construction, mining, and military equipment, industry machinery such as press machines, lasers, and thermoelectric modules.
Komatsu is the world's second largest manufacturer of Construction and Mining Equipment after Caterpillar. However, in certain geographic areas (Japan, China, Middle East), Komatsu has a larger market share than Caterpillar.
Its headquarters is at 2-3-6, Akasaka, Minato-ku, Tokyo, Japan.
Its name was taken after the current city of Komatsu, Ishikawa at the company's foundation there in 1917. Its main plants are located in the city.
Komatsu makes the largest bulldozer in production in the world, the D575, the Italian company Umberto ACCO built a one-off machine of 1,300 hp (970 kW), weighing in at 183 ton, for a contract in Libya, which never took place.
Komatsu Iron Works was started by Takeuchi Mining Industry as a subsidiary to make industrial tools for the parent company. Komatsu eventually became large enough to sell to the public, and was spun off on 1921-05-13 as Komatsu Ltd.
Komatsu produced its first agricultural tractor prototype in 1931. Through the 1930s, Komatsu also produced military tractors for the Japanese military, as well as bulldozers, tanks and howitzers. After World War II, Komatsu added non-military bulldozers and forklifts to its line of equipment. Its growth as a company was aided by the strong demand for its bulldozer during Japan's post-war reconstruction in the 1950s. By 1957 they had advanced enough technologically that all of there models were also using Komatsu's own engines.

Komatsu began exporting its products in the 1960s, looking to counteract the postwar image of Japanese products as being cheap and poorly made, and entered the U.S. market in July 1967, taking on Caterpillar, the world's largest bulldozer maker, in its home market, under the leadership of President Yashinari Kawai. Komatsu did so under the rallying cry "Maru-C", translating into English as "encircle Caterpillar" (in the context of Go (board game) encircling an opponent results in capture of their territory).
In the 1980s, Komatsu and International Harvester of the USA had a joint venture to produce compact tractors called KIMCO.
Komatsu and Dresser Industries established Komatsu Dresser to make mining tractors and related equipment. This 50–50 ownership lasted from September 1988 to August 1994, when Komatsu bought out Dresser's share, and Komatsu's mining products were consolidated under the name Komatsu Mining Systems in 1997. To prevent brand name confusion due to the corporate changes, the name "Haulpak" is used for the product line Komatsu began with Dresser.
During the 1990s Komatsu had a joint venture in Europe with Moxy were Komatsu designed ADTs were built under license for the European market by Moxy. (in 2008 Moxy was taken over by Doosan of Korea)
Komatsu owns the former Demag range of Mining Machines, which have been upgrades but are basically the same, with the PC3000 being the old Demag H185, of which over 200 have been built under both brands/model nos.
In 1993, two joint ventures were formed with Cummins; Komatsu Cummins Engine Corporation (KCEC) to manufacture Cummins engines in Japan, and the Cummins Komatsu Engine Corporation (CKEC) to manufacture Komatsu engines in the USA. Another joint venture was set up in 1997 to manufacture industrial engines in Japan.
New Releases
Edit
A new 375 ton Dump truck was released in 2008.
A hybrid machine the Komatsu PC200-8 Hybrid was released in Japan in June 2008. This machines a s smaller engine and Diesel-electric drive system boosted by a battery pack.
Komatsu (UK)
Edit
Main article: Komatsu (UK) Ltd
Komatsu (UK) Ltd was set up in the UK in 1985, and with a factory started manufacturing at Birtley in Co.Durham, England in 1987. The Factory Started by assembling kits imported from abroad, but was always to actually build machines from scratch, and today is a major exporter to Europe of machines in the 13 ton to 75 ton class. They built 3900 machines in 2004 and production has since increased to meet demand at home and in export markets.
The factory is a full production line fabricating pre-cut plate & sheet steel to make the major elements from scratch, like booms and main frames. The factory is a former Caterpillar plant, that was used to benefit from the North East's Engineering and fabrication skills base from the ship building & heavy industries following there decline in the 1970s. Caterpillar still have a plant near by at Peterlee that builds ADTs.
Engines come from the Cummins Engine factory at Darlington down the road, on a JIT (Just In Time) basis.
Marubeni Komatsu
Edit
Main article: Marubeni Komatsu
Marubeni Komatsu is the official importer & distributor for Komatsu machines in the UK and is a subsidary of the Japanese Marubeni groups European division (Marubeni Europe).
Model Range
Edit
UK Produced
Edit
5 Wheeled machines from 13t to 22t
13 crawler machines from 13t to 75t
Imported Lines
Edit
Crawler excavators
Wheeled loaders
Hanomag — now a Komatsu subsidiary and build some of the European market models
Dumper trucks
| Model No. | Power kW / HP | Weight (kg) | Blade size | Notes |
| --- | --- | --- | --- | --- |
| D37EX/PX-22 | 66 / 89 | 8 300 - 8 650 | 3 250 × 830 (Power Angle Tilt) / 1,95 (PX) | |
| D51EX/PX-22 | 97 / 130 | 12 710 - 13 100 | 3 045 × 1 110 / 2,7 (Power Angle Tilt) | |
| D61EX/PX-15 | 125 / 168 | 16 670 - 18 260 | 3 175 × 1 300 (Semi-U blade single tilt) / 4,3 (EX) | |
| D65EX/PX-15 | 153 / 205 | 20 280 - 21 020 | 3 415 x 1 225 / 3,89 (EX) | |
| D85EX/PX-15 | 197 / 264 | 27 650 - 28 100 290 | 3 635 x 1 580 (Semi U-tilt) / 5,2 (EX) | |
| D155AX-6 | 264 / 354 | 39 500 / 412 | 4 060 × 1 850 / 9,4 (Sigmadozer) | |
| D275AX-5 | 335 / 449 | 49 850 / 450 | 4 300 x 1 960 / 13,7 | |
| D375A-5 | 391 / 525 | 69 560 / 570 | 5 140 x 2 265 / 22,0 | |
| D475A-5 | 664 / 890 | 108 390 | 6 205 × 2 610 / 34,4 Full-U: 6 205 × 2 610 / 34,4 | |
Earlier models
Edit
Swamp dozers
,
Mining Machinery
Edit
Komatsu America Models [1]Edit
References
Edit
Further reading
Edit
ISBN 0646396978 - A History of Komatsu Construction and Mining Equipment Volume One
External links
Edit