British Leyland was a vehicle manufacturing company formed in the United Kingdom in 1968 as British Leyland Motor Corporation Ltd (BLMC). It was partly nationalised in 1975 with the government creating a new holding company called British Leyland Ltd which became BL Ltd (later BL plc) in 1978. It incorporated much of the British owned motor vehicle industry, and held 40% of the UK car market, with roots going back to 1895.
History (abridged)
Edit
Main article: British Leyland
The British Motor Corporation (BMC) was a UK vehicle company, formed by the merger of the Austin Motor Company and the Nuffield Organisation (parent of the Morris car company, MG, Riley and Wolseley) in 1952. The during the early 1960's British Motor Corporation (BMC) was suffering a dramatic drop in its share of the home market, and in 1966 it succumbed to the pressures, and along with Pressed Steel, the car body manufacturer, merged with Jaguar Cars to form British Motor Holdings (BMH) Ltd. BLMC was created in 1968 by the merger of British Motor Holdings (BMH) and Leyland Motor Corporation (LMC) ltd, encouraged by Tony Benn as chair of the Industrial Reorganisation Committee created by the Wilson Labour Government (1964–1970). At the time, LMC was a successful manufacturer, while BMH was perilously close to collapse.
Leyland Motors Limited was a British vehicle manufacturer of lorries and buses. It gave its name to the British Leyland Motor Corporation formed when it merged with British Motor Holdings, later to become British Leyland after effectively becoming nationalized. British Leyland later changed its name to simply BL then in 1986 Rover Group. The Rover Group subsequently being broken up in the 1990's after changing hand several times.
Leyland Agricultural, Construction & Heavy trucks Acquisitions
Edit
See
Main article: Marshall for tractors and
Main article: Track Marshall for the crawler operations.
Leyland Divisions
Edit
Sir Don Ryder was asked to undertake an enquiry into the position of the company, and his report, The Ryder Report, was presented to the government in April 1975. Following the report's recommendations, the organisation was drastically restructured and the Labour Government (1974–1979) took control by creating a new holding company British Leyland Limited (BL) of which the government was the major shareholder. The company was now organised into the following four divisions
Leyland Engines
Edit
For details see Leyland engines
Factories
Edit
Leyland Tractor models
Edit
For earlier Nuffield models and history, see Nuffield.

1969 range
Edit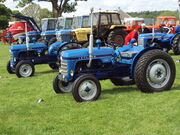 These were essentially the old Nuffields range re-badged with new tin work and cabs plus a new colour scheme at first.
1970s models
Edit
New Engines - Leyland 4/98 & 6/98 introduced and tractors re numbered.[3]
Safety cab by Victor now standard, after a change in the Law required fitment of safety cabs to all new tractors
Synchro range introduced - New gearbox replaced old Nuffield unit
Turbo charged models launched
existing models
All the range revised - now fitted with the Danish built Sekura "Explorer" cab.
Some of the below Marshall tractors were also made as Harvest Gold leylands such as the 804 and 802
Main article: Marshall Tractors
Sold to Sold to Charles Nickerson owner of Marshall Tractors Ltd of Gainsborough. All tractor production moved from Bathgate, West Lothian, to the Marshalls Britannia works at Gainsborough by rail.
For more details on post 1982 Tractors see the Marshall Tractors article
Marshalls/Nickerson goes bust. Business sold to Theakstones, who move business to Scunthorpe.
Theakstones then sell out to Bentall-Simplex, who then badge various makes of tractors as Marshall.
A former dealer John Charnley and Sons of Brindle, near Chorley, Lancashire buys up stock of parts then buys the remaining stock and the design rights from Bentall-Simplex (but not the brand name) and build some as JWD Field Master to order. (Marshall name belonging to Theakstones who kept the parts business).
Preserved tractors
Edit
Please list now examples below with a Serial no or reg no. if possible to distinguish them, or a reference to a feature on them in print.
384-Bray owned by Kenny Martin, Co.Down NI. One of only 10 built.[4]
Collecting of Vintage tractors
Reference
Edit
External links
Edit
Early Makes - pre 1940s

1940s to 1980s

Modern post 1980s

Independents
North America

Europe

India & Pakistan

Middle East
(Turkey, Iran,
Iraq, Syria etc...)

Far East
(Australasia, China,
Japan, Korea, Thailand,
Vietnam etc...)

South America
(Argentina, Brazil,
Uruguay etc)

Africa

Asia
(Russia, Tajikstan,
Uzbekistan, Ukraine)

Specialist types of tractor

Notable People - associated with the tractor industry

Inventors