This List is the main Index page of ALL Tractor manufacturers of the world on Tractor Wiki And aims to list EVERY Manufacturer. From here pages can be added for each individual Make or Brand name.
Please add any missing companies and expand the Histories and the lists of models and known examples in preservation. Help build the database/ encyclopaedia as this is an Open Project 'Wiki' to document ALL Makes and Models.
For Construction Plant see

For Farm machinery manufacturers See Agricultural Machinery
England (U.K.)
Edit
Foreign companies with Manufacturing plants in UK are included.
Note: Initial article/info from Wikipedia entries were available was used, these are then being expanded to include more model info and details of preserved examples, predominantly relating to the UK, but other areas can be added as a sub section for clarity.
UK TRACTOR MAKES:
Tractors (Steam powered)
Edit
Main article: List of Steam Machinery Manufacturers
Tractors (Internal Combustion engined)
Edit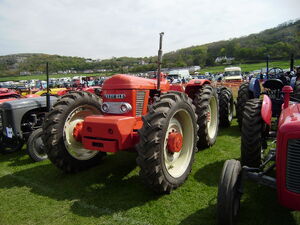 Aebi
  Agco
  Agco-Allis
  Agco-White
  Agcostar
  Agracat
  Agripower
  Agtrac

  Belarus
  Bell
  Bigblud
  Bison

  Bobcat
  Bolens
  Branson

  Buhler-Versatile
  Cabelas
  Cameco
  Carraro
  Chamberlain
  Changfa

  Caterpillar
  Century
  Challenger

  Claas

  Cletrac
  CO-OP
  Cockshutt
  County
 * Crawley Metal Products Ltd - Agrimotor

  Cubcadet
  Cubcadet-Yanmar
  Daedong
  Deutz
  Deutz-Allis
  Deutz-Fahr
  Dezzi
  DOE Dualdrive

  Earthmaster
  Eastwind
  Ebro
  Eicher
  Farmer
  Farmpro
  Farmtrac

  Fendt

  Ferrari
  Fiat
  Fiat-Hesston

  Foton
  Fortschritt

  Goldoni
  Hart-Parr
  Hesston
  Hinomoto
  Holder
  Honda Motor Co

  Hurlimann
  IMT
  International

  Ironhorse Tractor
  Iseki

  Iwate

  Jinma
  John Blue
  John Deere

  Kioti
  Kirovets
  Kubota
  Lamborghini
  Landini
  Landtrac
  Lanz
  Lenar

  Long
  L-S
  McCormick
  McDonald
  Mahindra

  Memo
  Mercedesbenz
  Minneapolis-Moline
  Mitsubishi

  Montana

  MTZ

  Nortrac

  OM
  Oliver

  Porter
  Powerking

  Renault
  Rhino

  Rock Island

  Same

  Satoh
  Saukville

  Schanzlin

  Siromec
  Shaw-Duall
  Shibaura
  Someca
  Steiger
  Steiner
  Steyr
  Tafe
  Terraplane

  Tractorking

  TYM
  Universal
  Ursus
  Valmet
  Valtra
  Ventac
  Versatile

  Volvo 
  Wagner

  White
  Yanmar
  YTO 
  ZETOR  

Specialist Models and 4-wd Converters
Edit
A load of firms built specialist versions of the major manufactures for niche markets and applications. Some of these were sold through the main dealers as manufacturer approved versions. Some been badged as the Name manufacturers brand.
For tractor details by individual Models see Tractors by model number - Category
Engine Manufacturers
Edit
Main article: List of Engine Manufacturers
Note:For companies whose main product line is not engines please disambiguate by adding (engines) to the title to separate from main company article.
America (USA)
Edit
Major American manufacturers
Edit
Smaller American Manufacturers pre 1940s (Defunct)
Edit
Smaller American Manufacturers post 1940s (Defunct)
Edit
Adams Husker (USA)
Adams Sidehill (USA)
Adams-Farnham (USA)
Agrimotor (USA)
Backus (USA)
Badley (USA)
Baird (USA)
Bantam (USA)
Incomplete list
Argentina
Edit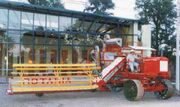 Australia
Edit
Azerbaijan
Edit
Allaeys manufactured crop-sprayers, no tractors!
Claeys (Zedelgem)
Doyen (Vilvoorde)
Favache (Vilvoorde)
Galman (Deurle/Gent)
Motte (Brugelette)
Ravell (Herent)
Sanglier = Favache brand
Spinnekop = Favache brand
Stotz -De Lille (Maldegem)
TractEurop (?)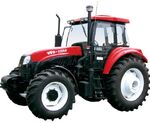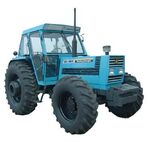 See note: Chinese tractors
Czechoslovakia/Czech Republic/Slovakia
Edit
Dutra
HSCS (Hofherr, Schrantz, Clayton & Shuttleworth)
JUMZ
LGW
Mavag
North Korea
Edit
Pakistan
Edit
South Africa
Edit
South Korea
Edit
Switzerland
Edit
Rest of World
Edit
See also
Edit
Help wanted The Date that they 1st and last built tractors also adding and formatting into a table
References / sources
Edit
Wikipedia, List of tractor manufactures. (initial list)
Books
Magazines