Massey Ferguson 1200
Talk

0
14,895pages on
this wiki
Redirected from MF 1200
Massey Ferguson 1200



Restored MF 1200

Model history
Model introduced
1974
Model discontinued
1979
Model status
Discontinued
No. produced

Unknown

Preceded by
New model
Superseded by
MF 1250
Engine Specification
Engine make
Perkins
Engine model
A6.354
Fuel type
Diesel
Power hp
95
Governed rpm
{{{governedrpm}}}
Displacement cu in /(litre)
354 cu in (? litre)
No. of Cylinders
6 (straight)
Bore in (mm)
3.75 inch (98.4 mm)
Stroke in (mm)
5 inch (127 mm)
Cooling system
Water
Naturally aspirated, Turbo or Supercharged
NA
Transmission Details
Transmission type
Manual
Gearbox make
MF
Drive
4-WD
General Data
Linkage Category
Cat I, Cat II or Cat III
Cab Details
Cab Make
MF
Type of Cab
Safety
Other info
Factories
Trafford Park, Manchester, England
Plow rating

Unknown
The Massey Ferguson 1200 was the first articulated (centre pivot) tractor designed for the British market by a major manufacturer. The tractor was introduced in 1974, and replaced by the upgraded version the MF 1250 in 1979.
Model history
Edit
Unknown - Details required Can you help with information on this models history ?
Specification
Edit
Data required
Preservation
Edit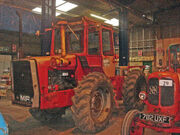 These classic tractors are developing a cult following with example increasing in value as collectors buy them up. A lot were worked hard in their day and suffered from abuse with engines being uprated by fitting turbochargers, so good clean examples are rare. They are a collectable model that can when restored still be used for a days work as well as being good for a day playing at working events.
List known examples here please; (or add to the table below with a photo)
List of Preserved Massey Ferguson MF 1200 tractors
Make + Model No.
Reg No.
(if known)
Serial No.
Build-Date
Engine-Type/Make
Owner
(if known)
Photo
Were seen/Featured in
Other info
MF 1200

KVW 253N

+
sn ?
engine
1975
Mike Torrie, Essex
Seen at Maldon Working Day 2011
With MF 24 Cultivator
MF 1200

NFE 163P

+
unknown
 ?
Perkins
 ?
MF 1200

KTW 163V

+
unknown
Perkins
year ?
owner ?
Seen at Maldon Working Day 2011
Unrestored 'off farm' condition
MF 1200

UFE 942R

+
sn ?
engine ?
year ?
owner
Seen at Hollowell Steam Rally 2010
Another 'original' example
MF 1200
reg no. ?
sn ?
engine
year ?
owner




Seen at
notes




MF 1200
reg no. ?
sn ?
engine
year ?
owner




Seen at
notes
Please add any tractor with known reg or serial no. with Photo if possible.
Create a page (link) for an individual tractor by linking the reg or serial number using reg number or serial number in the relevant column. Then once saved click the red link to start the new page and add info on that tractor.
Tractor model range
Preceded by
New design
MF 1200
1974–1979
Succeeded by
MF 1250
References / sources
Edit
External links
Edit
Massey Harris Ferguson range
Post merger new models
Massey Ferguson Lawn & Garden Tractors
Specialist ranges / subsidiaries
Massey Ferguson Construction/Industrial
Other products
Agricultural machinery

MF 701 baler

 •

Massey Ferguson Machinery Range

Attachments
Balers
Cultivation/Implements

Cultivator

add models here

Disc harrow

add models here

Chain harrow

add details here

Row crop toolbars

add details here

Rotary cultivator (Rotavator)

add details here

Rotary harrow (power harrow)

Drills
Grassland machinery
Harvesting
Planters
Ploughs (Plow in US)
Spreaders
Trailers

Misc equipment

Combine Harvesters
Note this list is under development and need sub groups adding for the series
please add the model of any page this template is added to
(please fix omission / correct errors of dates)
Early Makes - pre 1940s

1940s to 1980s

Modern post 1980s

Independents
(North America and Europe)

India & Pakistan

Middle East
(Turkey, Iran,
Iraq, Syria etc...)

Far East
(Australasia, China,
Japan, Korea, Thailand,
Vietnam etc...)

South America
(Argentina, Brazil,
Uruguay etc)

Africa

Asia
(Russia, Tajikstan,
Uzbekistan, Ukraine)

Specialist types of tractor

Crawler Tractors
Orchard and Vineyard tractors
Garden Tractors
(Compact tractors & Cultivators)
Motor Carts
Trucks / tool carriers
ATV's
(Quad bikes etc. for offroad use)

Notable People - associated with the tractor industry

Inventors