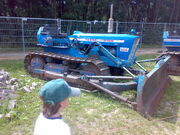 The Mailam company of Musile di Piave (Venezia), Italy was founded in the 1950s by Dr. Seggatini. The Dr. and his Chief engineer had experience of Caterpillar and International Crawler tractors and they used that to design two industrial crawlers. A 67 hp (50 kW) 670 model and a 55 hp (41 kW) 655 model. In 1966 they brought out a new model the Mailam 5001 based on the new Preforce Ford 5000 skid unit.[1]
The Mailam 5001 was built in a 60 hp (45 kW) 4-cylinder and a 115 bhp 6-cylinder version, and offered with bulldozer blade or just as a crawler tractor. They were built with Berco track units and fitted with multidisc slewing clutches.
Mailam produce also tracked dozer and loaders based on Mailam farm models.
Model range
Edit
Mailam 655 55 hp (41 kW)
Mailam 670 67 hp (50 kW)
Mailam 5001 4-cylinder 60 hp (45 kW) (Preforce) / 75 hp (56 kW) (Force)
Mailam 5001 6-cylinder Ford 2703E engine
Mailam 670 (industrial loader)
Mailam M70 (MA with angledozer , MB with bulldozer, ML with loader)
Mailam M75 (MA with angledozer, MB with bulldozer, ML with loader)
Mailam M85 (MA with angledozer, MB with bulldozer, ML with loader)
Mailam M135 (MA with angledozer, MB with bulldozer, ML with loader)
The tractor was offered in the UK by Ford Dealer Gates of Baldock from 1970. It is reported that gates only sold 3 Mailam tractors in the UK 2 4-cylinder and 1 6-cylinder model.[1]
Preservation
Edit
One example has been seen in the UK and a collector in the Netherlands has several examples which have been features in tractor magazines.
List of Preserved Mailam tractors
Make + Model No.
Reg No.
(if known)
Serial No.
Build-Date
Engine-Type/Make
Owner
(if known)
Photo
Were seen/Featured in
Other info






Please add any tractor with known reg or serial no. with Photo if possible.
Make & model
reg no
serial no
date built
engine
owner


 set to 150px


seen at
misc info
Create a page (link) for an individual tractor by linking the reg or serial number using reg number or serial number in the relevant column. Then once saved click the red link to start the new page and add info on that tractor.
Preservation related
References / sources
Edit
External links
Edit
Early Makes - pre 1940s

1940s to 1980s

Modern post 1980s

Independents
North America

Europe

India & Pakistan

Middle East
(Turkey, Iran,
Iraq, Syria etc...)

Far East
(Australasia, China,
Japan, Korea, Thailand,
Vietnam etc...)

South America
(Argentina, Brazil,
Uruguay etc)

Africa

Asia
(Russia, Tajikstan,
Uzbekistan, Ukraine)

Specialist types of tractor

Notable People - associated with the tractor industry

Inventors
Ad blocker interference detected!
Wikia is a free-to-use site that makes money from advertising. We have a modified experience for viewers using ad blockers

Wikia is not accessible if you've made further modifications. Remove the custom ad blocker rule(s) and the page will load as expected.