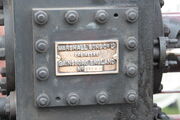 Marshall no. 81285 is a 5 inch scale model of a typical Marshall, Sons & Co. Traction engine
This 5 inch scale model was built by the presenter of the 'bygones' TV series in the 1970s. the unusual scale was dictated by the size of component that could be machined in his lath. It is unusall as well in the unlike todays engine kits that several companies make most of the components were made by the builder and machined from raw castings or from solid bar stock.
Events attended
Edit
This model has attende may steam rallies and other events in its life, some of the recent ones are listed below;
Add your photos here
References / sources
Edit
photos from event & info from the driver
External links
Edit
Ad blocker interference detected!
Wikia is a free-to-use site that makes money from advertising. We have a modified experience for viewers using ad blockers

Wikia is not accessible if you've made further modifications. Remove the custom ad blocker rule(s) and the page will load as expected.