Massey Ferguson 298
Model history
Model introduced
1983
Model discontinued
1986
Model status
Discontinued
Engine Specification
Fuel type
Diesel
Power hp
79
92
Power kW
59
69
Cooling system
Water
Transmission Details
Transmission type
Unknown
Drive
2WD/MFWD
Linkage Category
Unknown
Other info
Plow rating

Unknown

Web site
http://www.masseyferguson.com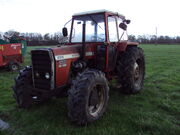 The Massey Ferguson 298 was part of the Massey Ferguson 200 series and was produced from 1983-86, when the Massey Ferguson 300 series replaced it.
The Massey Ferguson 298 is normally a 79 hp (59 kW) tractor. But this ones fitted with a TB Turbo and is 92 hp (69 kW).
Fitted with Duncan Super Q cab and 4WD
Model history
Edit
For brand history, see Massey Ferguson.
References
Edit
External links
Edit
Massey Harris Ferguson range
Post merger new models
Massey Ferguson Lawn & Garden Tractors
Specialist ranges / subsidiaries
Massey Ferguson Construction/Industrial
Other products
Agricultural machinery

MF 701 baler

 •

Massey Ferguson Machinery Range

Attachments
Balers
Cultivation/Implements

Cultivator

add models here

Disc harrow

add models here

Chain harrow

add details here

Row crop toolbars

add details here

Rotary cultivator (Rotavator)

add details here

Rotary harrow (power harrow)

Drills
Grassland machinery
Harvesting
Planters
Ploughs (Plow in US)
Spreaders
Trailers

Misc equipment

Combine Harvesters
Note this list is under development and need sub groups adding for the series
please add the model of any page this template is added to
(please fix omission / correct errors of dates)
Early Makes - pre 1940s

1940s to 1980s

Modern post 1980s

Independents
North America

Europe

India & Pakistan

Middle East
(Turkey, Iran,
Iraq, Syria etc...)

Far East
(Australasia, China,
Japan, Korea, Thailand,
Vietnam etc...)

South America
(Argentina, Brazil,
Uruguay etc)

Africa

Asia
(Russia, Tajikstan,
Uzbekistan, Ukraine)

Specialist types of tractor

Notable People - associated with the tractor industry

Inventors