Navistar International
Talk

0
15,227pages on
this wiki
Navistar International Corporation (formerly International Harvester Company) is a manufacturer of International brand commercial trucks, MaxxForce brand diesel engines, IC Corporation brand school buses, Workhorse brand chassis for motor homes and step vans, and is a private label designer and manufacturer of diesel engines for the pickup truck, van and SUV markets. The company is also a provider of truck and diesel engine parts and service.
The company's products, parts, and services are sold through a network of nearly 1,000 dealer outlets in the United States, Canada, Brazil, and Mexico and more than 60 dealers in 90 countries throughout the world. The company also provides financing for its customers and distributors principally through its wholly owned subsidiary, Navistar Financial Corporation.
The merger of McCormick Harvesting Machine Company and the Deering Harvester Company in 1902 resulted in the formation of the International Harvester Company (IH) of Chicago, Illinois, which over the next three quarters of a century evolved to become a diversified manufacturer of farming equipment, construction equipment, gas turbines, trucks, buses, and related components. During World War II, International Harvester produced the M-series of military trucks that served the Marine Corps and the U.S. Navy as weapons carriers, cargo transporters and light artillery movement. Today, Navistar produces International brand military vehicles through its affiliate Navistar Defense.
International Harvester fell on hard times during the poor agricultural economy in the early to mid-1980s and began exiting many of its business sectors in an effort to survive; in the process, it shed most of its operating divisions: Construction Equipment Division to Dresser Industries; Solar (gas turbines) Division to Caterpillar; Cub Cadet (lawn and garden equipment) to MTD Products and, lastly, the Agricultural Division to Tenneco who merged it with their J.I. Case subsidiary.
After the Ag sale in 1985, all that remained of IH was the Truck and Engine Divisions. The company changed its name in 1986 to Navistar International Corporation. (The International Harvester name and IH logo were assets of the Agricultural Division and consequently were part of the sale to Tenneco; the IH name and logo are still in use being incorporated into the Case IH brand name). In the early 1980s, IH developed a series of reliable large-displacement V8 diesel engines which were sold as an option for heavy-duty Ford 3/4-ton and 1-ton pickup trucks.
Navistar still uses the International brand in its agricultural, construction and truck product lines and the brand name continues on in product lines of Navistar International's International Truck and Engine Corporation subsidiary.
In January 2006, the company declared it would not file its form 10-K annual report with the U.S. Securities and Exchange Commission on time. The delay was caused by the disagreement with its auditors, Deloitte and Touche, over complex accounting issues. In April, Navistar fired Deloitte, its independent auditor for 98 years, and hired KPMG to help restate earning back to 2002 in order to fix accounting errors. On December 15, 2006, Navistar executives announced further delay of its restatement and 2006 results. The announcement prompted the NYSE to announce the delisting of the company, after 98 years of trading, although the NYSE subsequently delayed the delisting pending an appeal by Navistar. However, Navistar was removed from the P 5 Index, and the NYSE eventually denied Navistar's appeal and delisted the stock; it traded on the Pink Sheets until 30 June 2008, when it was re-listed on the NYSE, under its previous ticker symbol, NAV, after catching up with its filings.[1] Christopher Anderson, the Deloitte partner responsible for the 2003 audit, accepted a one-year suspension from public audits in 2008, and became the first individual to be fined by the PCAOB.[2]
Navistar International has a contract with Budget Truck Rental to make their rental trucks. [3]
In 2007, Navistar's International Truck and Engine Corporation is the first company to enter hybrid commercial truck production, with the International DuraStar Hybrid diesel-electric truck.[4]
Navistar entered into an agreement to purchase General Motors' medium duty truck unit in 2007,[5] but because of changing market conditions the purchase was not concluded.[6]
Navistar International manufactured the largest pick-up truck available on the market in the United States. The International CXT is the largest pick-up available to the non-commercial consumer. It is no longer available. Navistar is also the prime supplier of MRAP armored vehicles to the US military.
Navistar International is notable for a significant workplace shooting at its Melrose Park, Illinois plant on February 5, 2001. [7]
"DV" (1966-1974) V8 Diesel, Direct Injection

DV 462 - 7.6 L (1966-1971)
DV 550 - 9.0 L (1966-1970)
DV 550B - 9.0 L (1971-1974)

"D Series" (1975-early 1980) 9.0 L (549 CI) V8 Diesel, Direct Injection

1980–1987 9.0 L (551 CI) Direct-Injection V8
1983–1987 6.9 L IDI (Indirect Injection) V8 (Ford)
1988–1994 7.3 L IDI (Indirect Injection) V8 (Ford)
2003–present VT365/PowerStroke (Ford)
V8

6.0 L
6.4 L (MaxxForce 7)

I6

"PLN" Pump Line and Nozzle, Direct Injection

DT 360 - 5.9 L
DT 466 - 7.6 L

"NGD" (1994–1997) New Generation Diesel, PLN, DI

DT 408 - 6.7 L
DT 466 - 7.6 L
HT 466 - 7.6 L
DT 530 - 8.7 L
HT 530 - 8.7 L

"HEUI" Hydraulic Electric Unit Injector, Direct Injection (1994 - up)

DT 466 - 7.6 L
HT 466 - 7.6 L
DT 530 - 8.7 L
HT 530 - 8.7 L
DT 570 - 9.3 L
HT 570 - 9.3 L

I6

VT 275 - 4.5 L (MaxxForce 5)

MaxxForce Brand Truck, Bus and RV Engines (2007 - )

MaxxForce 5 - 4.5 L V-6
MaxxForce 7 - 6.4 L V-8
MaxxForce DT - 7.6 L I-6
MaxxForce 9 - 9.3 L I-6
MaxxForce 10 - 9.3 L I-6
MaxxForce 11 - 11.0 L I-6
MaxxForce 13 - 13.0 L I-6
Note: International Truck and Engine recently launched the MaxxForce brand name for their current line of Diesel engines. All current engines will be branded as "MaxxForce" followed by a number corresponding to the engine's displacement, rounded up. So the 4.5 L VT275 becomes the "MaxxForce 5". Ford will continue to use the Power Stroke brand name on their International engines.
Plug-in hybrid vehicles
Edit
USDOE announced the selection of Navistar Corporation for a cost-shared award of up to $10 million to develop, test, and deploy plug-in hybrid electric (PHEV) school buses. The project aims to deploy 60 vehicles for a three-year period in school bus fleets across the nation. The vehicles will be capable of running in either electric-only or hybrid modes and will be recharged from a standard electrical outlet. Because electricity will be their primary fuel, they will consume less petroleum than standard vehicles. To develop the PHEV school bus, Navistar will examine a range of hybrid architectures and evaluate advanced energy storage devices, with the goal of developing a vehicle with a 4 electric range. Travel beyond the 40-mile range will be facilitated by a clean diesel engine capable of running on renewable fuels. The DOE funding will cover up to half of the project's cost and will be provided over three years, subject to annual appropriations. [8]
Present day: Hybrids, Defense
Edit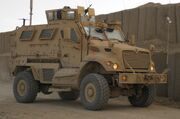 In 2007, Navistar's International Truck and Engine Corporation is the first company to enter hybrid commercial truck production, with the International DuraStar Hybrid diesel-electric truck.[9]
Navistar is the prime supplier of MRAP armored vehicles to the US military. The Navistar 7000 series has been fielded by the Canadian Forces for domestic operations. In 2005, the US Army ordered 2900 7,000-MV for the Afghan National Army and Iraqi Ministry of Defense and an additional order of 7,000 was added in 2008.

International Trucks
Edit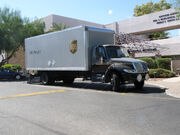 In 1986, after the transition from International Harvester to Navistar, the truck product line (essentially all that was left) dropped the "Harvester" portion of the brand name. Based in Warrenville, Illinois, International produces a variety of medium-duty, over-the-road, and severe-service trucks.
Medium Duty
International TerraStar Class 4-5 conventional
International CityStar LCF (low-cab forward) cab-over
International DuraStar Class 6-7 conventional
Class 8
Severe-service
International has a long history in the school bus industry as a chassis provider, dating back to when school buses first became motorized. In 1991, Navistar entered the school bus industry as a body manufacturer when it began its acquisition of AmTran, an Arkansas-based company founded as Ward Body Works in 1933. Today, IC Bus (IC is an acronym for Integrated Coach) produces several models of full-sized school school buses along with buses for commercial use.
School/activity buses
AE-Series cutaway-cab conventional (based on International TerraStar)
BE-Series conventional (International 3300LP chassis)
CE-Series conventional (International 3300 chassis)

available in diesel-electric hybrid configuration

RE-Series rear-engine transit-style (International 3000 chassis)
Commercial buses
Along with commercial-use derivatives of the school bus product lines, IC offers these distinct products:
Motorcoaches
IC Bus has introduced concept vehicles in both 40 feet (12 m) and 45 feet (14 m) lengths.[10]
Joint Ventures
Edit
Ford Motor Company
Edit
See also: Ford Power Stroke engine and Ford F-650
Since the 1980s, Navistar has had a close relationship with Ford Motor Company. Initially, the relationship started out as an engine-sharing deal, but evolved into the production of entire vehicles.
Ford PowerStroke Diesel
Edit
As a result of the gas crises of the 1970s, big-block gasoline V8 engines (such as the Ford 460) had begun to fall out of favor with pickup-truck buyers. In the 1980s, diesel engines (introduced by General Motors in 1978) had become popular, as they offered the power of a big-block V8 with the fuel economy of a small-block V8 (if not a six-cylinder). Unlike GM, which developed its own diesel engine (from subsidiary Detroit Diesel), Ford kept down development costs by adapting an existing engine. Ford entered into a supply agreement with International Harvester to receive its 6.9L IDI V8 engine. The first diesel-powered Ford pickup trucks (all ¾ and 1-ton models) debuted for 1982.
In 1994, when the IDI V8 was replaced by the T444E, the diesel option was branded "Ford PowerStroke" to emphasize the switch to direct injection. Throughout the 1990s and 2000s, Ford offered International/Navistar V8 (as the DT inline-6 was far too large to package in a pickup truck) in the Ford Super Duty pickup trucks.
Blue Diamond Truck
Edit
In 2001, Navistar formed a joint venture with longtime (20 years) customer Ford Motor Company[11] to manufacture medium-duty trucks and parts including diesel engines for both parent companies. The new company, Blue Diamond Truck Co. LLC,[12] operates in the Navistar plant in General Escobedo, Mexico .[13] Its first products were the 2004 Ford F-650 and F-750 medium-duty trucks.[14]
On 16 September 2010, Anhui Jianghuai Automobile Co., Ltd. (JAC) announced joint ventures with NC2 Global and Navistar International Corporation that will develop, build, and market heavy duty trucks and diesel engines in China.[15]
Main article: Mahindra Navistar
Navistar formed a joint venture with Mahindra & Mahindra to build heavy trucks in India under the Mahindra International brand,[16] which has since been renamed Mahindra Navistar.[17] These Trucks were displayed at Auto Expo 2010 in Delhi, India
They also formed Mahindra Navistar Engines to manufacture engines in India for the trucks. Navistar exited these businesses in 2012.[18]
Tatra and Navistar Defence introduced at Eurosatory Exposition in Paris, France (Jun 14-18 2010) the results of their strategic alliance since October 2009, the models ATX6 (universal container carrier) and ATX8 (troop carrier)[19] The vehicles appear to be based on Tatra T815-7 (T817) 6x6, 8x8 chassis(see pics here) ,[20] suspension and cabins while using Navistar engines and other componets.[21] Under the deal Navistar Defence and Tatra A.S. will market the vehicles in North America, which includes sales to the United States military and foreign military sales financed by the United States government. Tatra will source parts and components through Navistar's global parts and support network for Tatra trucks delivered in markets outside of North America as well as market Navistar-Tatra vehicles around the world in their primary markets.
NC2 Global
Edit
In 2009, Navistar and Caterpillar announced the formation of a new 50/50 joint venture to be called NC2 Global. Based in Chicago, Illinois, USA, this company is to "develop, manufacture and distribute commercial trucks globally, outside North America and India" under the International and Cat brands.[22]
On 16 September 2010, Anhui Jianghuai Automobile Co., Ltd. (JAC) announced joint ventures with NC2 Global and Navistar International Corporation that will develop, build, and market heavy duty trucks and diesel engines in China.[23]
See also
Edit
References
Edit
External links
Edit
International Truck product line

This template is from wikipedia and needs a rewrite.
It is to demonstrate a "complex" navebox using sub groups to allow expansion

Military vehicles
Commercial Vehicles

Diesel Engines

Other

Tractor

Delivery Van

Retail Vehicles