Royal Nooteboom Trailers B.V. are a specialist trailer manufacturer based in the Netherlands. They build trailers from 2 axles up to fully modular units for Ultra loads. In the 1980s they invented a new type of trailer for hauling crane ballast weights thes trailer generally have 5 or 6 axles with upto 4 steering. They build Low loaders, semi low loaders extendible trailers and custom trailers for Boats Excavators and Wind turbine transport. They also build inter dollies, pub trailers and Modular necks interchangeable deck beams.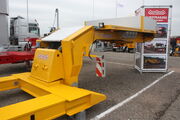 Model range
Edit
Euro range
MCO range
OSD range
OVB range - extendible
Inter Combi - modular range
AD drawbar trailers
ASD drawbar trailers
NDL range
References
Edit
External links
Edit
Ad blocker interference detected!
Wikia is a free-to-use site that makes money from advertising. We have a modified experience for viewers using ad blockers

Wikia is not accessible if you've made further modifications. Remove the custom ad blocker rule(s) and the page will load as expected.