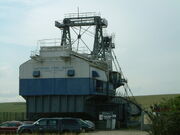 Oddball is the name given to a large walking dragline that was at the St. Aidans opencast site near Leeds in England. The machine built by Bucyrus-Erie was called Odd Ball as it was a US built Electric powered machine and had to have a special Rotary converter for its power supply to Transform UK power to the US std power required to operate the machine in Britain.
The Bucyrus-Erie BE 1150B dragline has been saved from the cutting torch following completion of coal extraction at the site and is parked up nearby. The Machine was saved by the "Friends of St.Aidans" group, who hold regular open days during the year to allow the public to visit & raise funds for its restoration. This is the Largest Dragline in Europe in preservation, but unfortunately is not working due to a lack of a suitable power source (huge cost) and theft of some parts when it was first parked up by British Coal the owner. Oddball was moved to its present position following closure of the site opencast site and restoration work using a Large generator to supply temporary power. The move of just 49 m was carried out in January 1999 after the machine had stood idle for 10 years.[1]
NRG:SE 394 286 - Swillington Leeds England.
References / sources
Edit
External links
Edit
Ad blocker interference detected!
Wikia is a free-to-use site that makes money from advertising. We have a modified experience for viewers using ad blockers

Wikia is not accessible if you've made further modifications. Remove the custom ad blocker rule(s) and the page will load as expected.