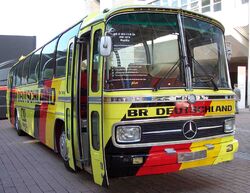 Otomarsan was founded in 1967 as Otomarsan Buses and Motor Vehicles Co., Ltd. in Istanbul, Turkey. Production of the Mercedes-Benz O302 buses began in 1968. In 1986, Aksaray province, they started to produce trucks. In November 1990, the company changed to become Mercedes-Benz Türk.
Mercedes-Benz plant in Turkey today Hoşderedeki type of long-distance and local buses , the light and heavy class factory in Aksaray trucks and trailers manufactures.
Since the establishment of their own production of about 44,200 buses, 65,700 trucks, 1,000 buses and imports since 1989 and have sold 23,700 units of light commercial vehicles.
References
Edit
External Links
Edit
Ad blocker interference detected!
Wikia is a free-to-use site that makes money from advertising. We have a modified experience for viewers using ad blockers

Wikia is not accessible if you've made further modifications. Remove the custom ad blocker rule(s) and the page will load as expected.