A patch planer is a small Planer designed for planing out small areas of tarmac and concrete during patching works. They can be mounted on a quick release frame to fit on small loaders and Skid-Steers in-place of the standard bucket or with excavater arm mountings to fit backhoe loaders or on a 360 excavater boom for streetworks.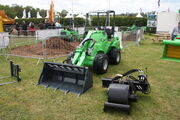 | | |
| --- | --- |
| | This construction equipment-related article is a stub. You can help Tractor & Construction Plant Wiki by expanding it. |
Ad blocker interference detected!
Wikia is a free-to-use site that makes money from advertising. We have a modified experience for viewers using ad blockers

Wikia is not accessible if you've made further modifications. Remove the custom ad blocker rule(s) and the page will load as expected.