Pauny S.A. was founded in 2002 out of the bankrupt Zanello S.A. company in Cordoba, Argentina, and was formed/owned by the workers. Pauny builds and sells agricultural, construction and forestry products under the Pauny, Pauny Zanello and Pauny Rino brands. Pauny has exported to Russia, Uganda, Ukraine, Norway, Brazil, Romania and various others.[1]
In the agriculture market, Pauny builds Tractors, sprayers, water and fuel tanks, and on-site living trailer. For construction, Pauny offers front-loader tractors and graders. For Forestry, a forestry truck and log-skidders. Other products include bus-chassis, mini-buses[2] and buses.
Pauny is headed by Raul Giai Levra.
In 2005, Pauny began marketing the tractors as Pauny Rino instead of/in addition to Pauny Zanello.
In 2009, Pauny opened an assembly plant in the Turen Municipality, Portuguesa State, Venezuela to assemble articulated tractors and road machinery, and another in 2010 in the City of El Sombrero, Guarico State, Venezuela to assemble conventional tractors.[3]
In 2011, Stara of Brazil began to build a factory in Brazil in partnership with Pauny.[4][5]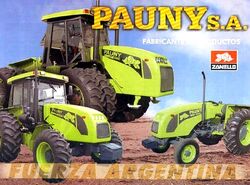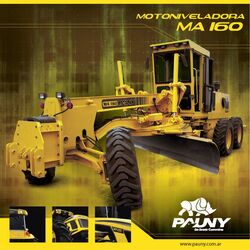 PaunyBus Turismo
PaunyBus Urbano
References
Edit
External links
Edit
Early Makes - pre 1940s

1940s to 1980s

Modern post 1980s

Independents
North America

Europe

India & Pakistan

Middle East
(Turkey, Iran,
Iraq, Syria etc...)

Far East
(Australasia, China,
Japan, Korea, Thailand,
Vietnam etc...)

South America
(Argentina, Brazil,
Uruguay etc)

Africa

Asia
(Russia, Tajikstan,
Uzbekistan, Ukraine)

Specialist types of tractor

Notable People - associated with the tractor industry

Inventors