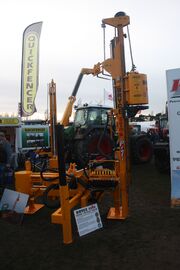 A Post driver is designed for the rapid driving of timber fence posts for farm and Estate us. Usually used by specialist contractors.
Special versions mounted on tracked dumper chassis and excavator base units are being marketed now for tricky sites such as conservation areas and soft ground were wheeled tractors do too much ground damage. Originally these type of machines were built by individual contractors in there own workshops.
Manufacturers
Edit
Add manufactures below;
add your photos here
References / sources
Edit
External links
Edit
| | |
| --- | --- |
| | Add any external links that directly relate to this articles subject and have more info or have related images. Other general external links can be added to the web Site Links list. |
Ad blocker interference detected!
Wikia is a free-to-use site that makes money from advertising. We have a modified experience for viewers using ad blockers

Wikia is not accessible if you've made further modifications. Remove the custom ad blocker rule(s) and the page will load as expected.