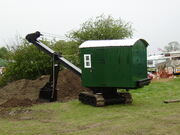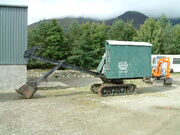 The Priestman Cub was built in several different models during its life. A range of different front end equipment was offered; Carne boom, Dragline, Excavator, Front shove, Skimmer, and side ditch digger.
Model history
Edit
Boom specs
Edit
Preservation
Edit
List known examples here
Gallery for more photos
preservation;
References / sources
Edit
External links
Edit
Ad blocker interference detected!
Wikia is a free-to-use site that makes money from advertising. We have a modified experience for viewers using ad blockers

Wikia is not accessible if you've made further modifications. Remove the custom ad blocker rule(s) and the page will load as expected.