Roadless no. 987 is a Fordson Power Major fitted with a 4-wd axle and drop box by Roadless Traction Ltd.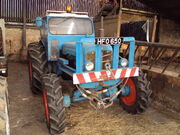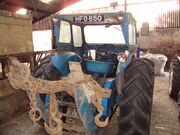 Roadless Power Major Fitted with Cooks 10 ton 2 speed winch driven by chain from a sprocket fitted on tractors belt pulley.
Tractor is used to move deep litter chicken sheds. recover bogged combines. pulls trees. etc
Owner Charlie McCrirrick, Kelso
Roadless axle No 987
No. 0 >999

987 - To add

No. 1000 > 1999
No. 2000 > 2999
No. 3000 > 3999
No. 4000 > 4999
No. 5000 > 5999
No. 6000 > 6999
No. 7000 > Last
Unknown axle no.
(List by reg no.)

to add

Misc
Ad blocker interference detected!
Wikia is a free-to-use site that makes money from advertising. We have a modified experience for viewers using ad blockers

Wikia is not accessible if you've made further modifications. Remove the custom ad blocker rule(s) and the page will load as expected.