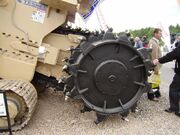 Rock mills are a drum cutter fitted with replacable hardened cutters. These are used for cutting trenches and tunnelling or for profiling rock faces, such as cutting to profile rockfaces.
Some quarries are using them for ripping softer rock up were blasting is not allowed, instead of ripping with a large Bulldozer An advantage is the smaller size of the materail produced removes the need for a primary crusher and in some cases, just needs screening, resulting in production cost advantages.
Manufacturers
Edit
add details of companies producing these machines
References / sources
Edit
External links
Edit
Ad blocker interference detected!
Wikia is a free-to-use site that makes money from advertising. We have a modified experience for viewers using ad blockers

Wikia is not accessible if you've made further modifications. Remove the custom ad blocker rule(s) and the page will load as expected.