The Rollo Croftmaster is a rugged compact tractor built in Northern Scotland by Barrmor Tool works Ltd, Bonnybridge. Approximately 600 built[1]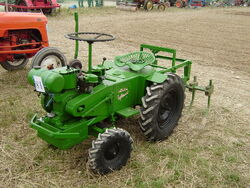 (can you supply any info on this firm ?)
Model Range
Edit
2 versions of the Croftmaster have been seen at shows in summer 2008. Both very similar but one looked new and was of a more modern welded construction with integral mud guards to the rear wheels and no linkage, and the other looked cruder but with a rear linkage and as if it had been restored. Were other versions built ?
Preservation
Edit
List of known examples;
References
Edit
Can you help with info ?
Early Makes - pre 1940s

1940s to 1980s

Modern post 1980s

Independents
North America

Europe

India & Pakistan

Middle East
(Turkey, Iran,
Iraq, Syria etc...)

Far East
(Australasia, China,
Japan, Korea, Thailand,
Vietnam etc...)

South America
(Argentina, Brazil,
Uruguay etc)

Africa

Asia
(Russia, Tajikstan,
Uzbekistan, Ukraine)

Specialist types of tractor

Notable People - associated with the tractor industry

Inventors
This article is a stub. You can help Tractor & Construction Plant Wiki by expanding it.
Ad blocker interference detected!
Wikia is a free-to-use site that makes money from advertising. We have a modified experience for viewers using ad blockers

Wikia is not accessible if you've made further modifications. Remove the custom ad blocker rule(s) and the page will load as expected.