Rolls-Royce Phantom (2003)
Talk

0
13,385pages on
this wiki
See also Rolls-Royce Phantom for other models sharing this name
Rolls-Royce Phantom
[[File:|frameless|upright=1.25|alt=]]
Manufacturer
Rolls-Royce Motor Cars
Parent company
BMW Group
Production
2003–present
Assembly
Goodwood plant, Chichester, West Sussex, England
Predecessor
Rolls-Royce Phantom VI
Class
Full-size luxury car
Body style(s)
2-door drophead coupe/convertible
4-door saloon
Layout
FR layout
Engine(s)
6.75 L V12 453 bhp (338 kW)
Transmission(s)
ZF 6-speed automatic
Wheelbase
140.6 in (3,571 mm)[1]
Extended Wheelbase: 150.4 in (3,820 mm)[2]
Length
2004–08 SWB: 229.7 in (5,834 mm)
Extended Wheelbase: 239.8 in (6,091 mm)[2]
2009–present SWB: 229.9 in (5,839 mm)[1]
Width
78.3 in (1,989 mm)[2][1]
Height
2004–08: 64.3 in (1,633 mm)
2009–present: 1,638 mm (64.5 in)[1]
Extended Wheelbase: 64.6 in (1,641 mm)[2]
Kerb weight
2,550 kg (5,600 lb)[1]
Extended Wheelbase: 2,670 kg (5,900 lb)[2]
Related
Rolls-Royce Phantom Drophead Coupé
Designer
Marek Djordjevic
Ian Cameron
The Rolls-Royce Phantom is a saloon automobile made in the United Kingdom by Rolls-Royce Motor Cars, a BMW subsidiary. It was launched in 2003 and is the first model introduced during the BMW era. The Rolls-Royce Phantom Drophead Coupé, and the Rolls-Royce Phantom Coupé, are both based on the 2003 Phantom. It also won the Top Gear Car of the Year Award for 2003.
Construction
Edit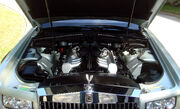 The Phantom uses a unique chassis platform, body, interior, and retains traditional Rolls-Royce design cues. The body is mostly aluminium.
Final assembly, including all body, paint, wood, and leather work, is completed to each customer's individual specification at the Rolls-Royce plant in Goodwood, West Sussex. The plant is close to the historic Goodwood Motor Racing Circuit.
The plant contains the paint shop, body shop, leather shop, woodworking shop, assembly line, and executive offices under one roof.[3] There are only three robots in the factory. The robots paint the body; the paint is polished by hand after the robots spray each coat. The coachlines, which are exactly 3 mm (0.1 in) wide, are done, as well as all other work, by hand, in keeping with the Rolls-Royce tradition.[4]
It has a 6.75 litre, 48-valve, V12 engine that produces 453 bhp (338 kW/459 PS) and 720 N·m (530 lb·ft) of torque. The engine is derived from BMW's N73 V12 powerplant and is assembled by BMW. It uses direct fuel injection, and is a drive by wire design, using valvetronic technology. The power output is regulated by infinitely varying valve lift by moving the rockers and rocker fulcrums via electric servos, rather than using the throttle body. The throttle body is maintained for fail-safe operation.
The aluminium extrusions that are used to construct the aluminium spaceframe are produced in Norway using hydroelectric power, shaped and machined in Denmark and finally hand-welded in Germany.[5]
It is 1.63 m (64.2 in) tall, 1.99 m (78.3 in) wide, 5.83 m (229.5 in) long, and weighs 2,485 kg (5,478 lb). The body of the car is built on an aluminium space frame and the Phantom can accelerate to 100 km/h (62 mph) in 5.7 s and to 300 km/h (186 mph) in 60 s. It has a six-speed automatic transmission and double wishbone suspension. The transmission is sourced from ZF of Germany. The vehicle electronics are sourced from BMW.
BMW originally intended to use a 9.0L V16 engine in the Phantom, as they wanted the ultimate engine for the ultimate luxury car of the 21st century. BMW designed and developed several examples of the V16, but at the last moment BMW decided use a more economical V12 engine. The engine can be seen in the concept Rolls-Royce 100EX. A V16 model Phantom was used in the film Johnny English Reborn at the specific request of Rowan Atkinson.[6][7]
An extended wheelbase Phantom was presented in March 2005 at the Geneva Motor Show, which is 250 mm (9.8 in) longer than the standard Phantom. It is currently referred to as the Phantom Extended Wheelbase[8] (or EWB).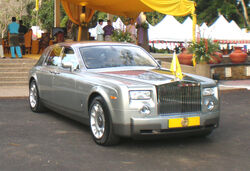 Novel features
Edit
Customers can choose from 44,000 paint colours, and specify any leather colour.[9]
Car has a power reserve dial indicating how much of the engine's power is left available to the driver. The instrument cluster is not shared with any other vehicle. Doors are remote operated.
The rear doors are rear-hinged, a style commonly referred to as suicide doors, but called 'coach doors' by Rolls-Royce. Because of the rear-seating position in relation to the rear inner-door handles, buttons are mounted on both C-pillars which operate hydraulic motors in order to close the rear doors. An electronic lock prevents the doors from being accidentally opened when moving. The car will automatically brake to a walking speed if a coach door remains open when driving off.[10] The rear doors also house umbrellas that are stored within the doors, and can only be accessed when the front or rear doors are open. The fabric of the umbrella is coated with Teflon to assist in shedding water when the wet umbrella is stored within the door.
The traditional Spirit of Ecstasy ornament has an automatic electronic retraction mechanism to prevent theft and protect pedestrians in the event of an accident. It may also be retracted by the driver at the touch of a button, and retracted when the alarm is armed. The base contains a sensor which detects movement, and will retract if tampered with.
The 'RR' logos on each of the wheel hubs are independent bezels in order to always remain upright while the wheel is rotating.
Luxury amenities
Edit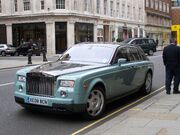 Features (as of 2009) include a navigation system with voice recognition, power sunroof, upgraded leather upholstery, rear-view camera, rear-seat DVD entertainment system, 26-speaker premium sound system, 8-disc CD changer, 18-way power front seats, 16-way power rear seats, heated and cooled cup holders, rear-seat tables, outside-temperature indicator, universal garage door opener, power tilt/telescopic heated wood and leather-wrapped steering wheel with radio, climate, and navigation controls, power open/close trunk lid, power closing doors, wireless headphones, iPod adapter, refrigerator, and air conditioning with 5-zone climate controls. There are extensive options available through the Rolls-Royce "Bespoke" programme through which the factory will create any reasonable option a customer asks for.
Safety recall
Edit
In October 2010, the Phantom is included in a product recall campaign involving cars with a V8 or V12 engine from BMW for the potential to develop a leak in the power braking system.[11]
Drophead Coupé and Coupé
Edit
Main article: Rolls-Royce Phantom Drophead Coupé
Rolls-Royce Phantom Drophead Coupé is the latest convertible made by Rolls-Royce which debuted at the 2007 North American International Auto Show in Detroit, Michigan on 7 January 2007. The platform is based on the Rolls-Royce Phantom and has styling heavily derived from the 100EX concept car unveiled to celebrate the company's centennial in 2005.
Series 2: 2013-onwards
Edit
In May 2012, Rolls Royce announced the Series 2 car, to be available from the 2013 model year. Series 2, updated by team including Giles Taylor, will have a number of updated and improved features, including:[12]
Replacement of round lower light with complementary rectangular LED light
One-piece stamped radiator grill
New single-piece wheels
New side-badge design
Extended chrome detailing around the side window
Highlighting capture strip on bottom of boot lid
Redesigned rear bumper, now one-step over two step
Integrated exhaust detailing, mirroring those on coupe
Simplified dashboard, including enlarged 8 inches (200 mm) LED screen
Improved systems rotary controller, through use of the system used on Ghost
Simplified seat designs
Improved audio, telecoms and connectivity systems
New 8-speed gearbox
Annual sales[13][14]

| Year | Sales |
| --- | --- |
| 2003 | 300 |
| 2004 | 792 |
| 2005 | 796 |
| 2006 | 805 |
| 2007 | 1,010 |
| 2008 | 1,212 |
| Total | 4,915 |
The introductory base price was £250,000 in the United Kingdom and $300,000 in the United States.
After selling 805 units in 2006, Rolls-Royce first met its annual sales target of 1,000 vehicles in 2007 (1,010 Phantoms sold, Drophead Coupé sales included).[14]
In 2004, Rolls-Royce was selling twice as many cars as its closest rival Maybach.
The 2,000th car rolled out of the Goodwood factory in December 2005.[15]
In July 2006, Rolls Royce produced a limited edition run of 25 cars called the "Phantom Black"[16]
The 3,000th car rolled out of the Goodwood factory in March 2007.
Rolls-Royce produced a limited edition run of 25 cars to commemorate the centenary of the Silver Ghost.[17]
The Peninsula Hotel in Hong Kong has purchased a fleet of 14 extended wheelbase Phantoms to replace the Silver Spurs in the fleet, all painted in a special "Peninsula Green" and delivered in December 2006, making history for being the largest single order for the Phantom.[18]
Luxury Vodka maker Grey Goose and Rolls-Royce teamed up to create two customized limited-edition Rolls-Royce extended wheelbase Phantoms to help promote social responsibility while drinking.[19]
Rolls Royce released a special Tungsten edition Phantom which incorporated innovations featured in the EX101 Experimental Car.[20]
O'Gara Coach Company of Beverly Hills, California, sold 58 Phantoms and Drophead Coupes in 2007, accounting for 15% of Rolls-Royce sales in the USA and 6% worldwide.[21]
The Next Generation
Edit
Rolls-Royce will replace the Phantom in 2016.[22] This would mean a production time of 13 years.
References
Edit
External links
Edit