Sellars of Huntly are a Agricultural machinery dealer who import(ed) ploughs from Sanderum AS of Denmark and marketed them under the Sellars name.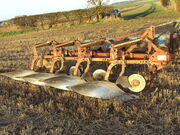 References / sources
Edit
External links
Edit
| | |
| --- | --- |
| | Add any external links that directly relate to this articles subject and have more info or have related images. Other general external links can be added to the web Site Links list. |
Links to historical Dealerships and significant modern ones

Tractor dealers

Plant dealers

Car/Auto-mobile dealers

Commercial/Truck dealers

Under construction - add any companies with articles

United Kingdom

add companies

Europe

add companies

North America

add companies

South America

add companies

Africa

add companies

Asia and Australasia

Parts suppliers

...

This navbox just contains sub navboxes for each sub-section
Ad blocker interference detected!
Wikia is a free-to-use site that makes money from advertising. We have a modified experience for viewers using ad blockers

Wikia is not accessible if you've made further modifications. Remove the custom ad blocker rule(s) and the page will load as expected.