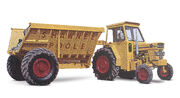 The Shawnee Poole System was a patented Hitch designed for use on large dump trailers pulled by tractors.
The Poole Hitch system was invented and designed by Harold Poole who has a lifetime's experience designing off-highway transportation systems. Mr Poole developed and subsequently licensed this articulated tractor and dumper system known under the generic name of 'Shawnee Poole'. The system was licensed to builders of trailers and tractor combinations in various countries. He has subsequently designed other hitch systems, including one for pulling trailers with bicycles
System users
Edit
In the UK Steelfab built the trailers & Hitch system which was often used with County tractors. This was before the ADT/Moxy type dumpers became common place.
These Heavy Duty trailers were often to be seen on Civil Engineering projects and Major Infrastructure jobs such as installing the National Gas trunk main system in the 1960 & 70s for the switch to Natural Gas from the North Sea and major Water Trunk Main (pipeline) projects.
Images of Shawnee Poole units
References / sources
Edit
External links
Edit
Ad blocker interference detected!
Wikia is a free-to-use site that makes money from advertising. We have a modified experience for viewers using ad blockers

Wikia is not accessible if you've made further modifications. Remove the custom ad blocker rule(s) and the page will load as expected.