For other uses, including people with surname Smalley, see Smalley (disambiguation).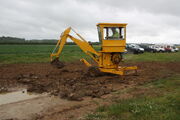 Smalley is or was a brand of small backhoe excavator with two wheels on one axle. It had no drive to the wheels. To move, it hooked itself about using its backhoe. the rise of the more versatile Japanese built Mini excavator in the 1980s killed most of the market for these machines, except for a few specialist sectors were the traced undercarriage was a disadvantage.
They were popular with Grave diggers as the legs allowed them to straddle adjacent plots. Other versions were mounted on pontoons for use in small rivers, ponds and canal cleaning operations.
Similar products
Edit
Model range
Edit
add detail here
Surviving examples
Edit
Add details of any known surviving examples;
References / sources
Edit
External links
Edit
This article is a stub. You can help Tractor & Construction Plant Wiki by expanding it.
Ad blocker interference detected!
Wikia is a free-to-use site that makes money from advertising. We have a modified experience for viewers using ad blockers

Wikia is not accessible if you've made further modifications. Remove the custom ad blocker rule(s) and the page will load as expected.