Thornycroft was a United Kingdom-based vehicle manufacturer which built coaches, buses, Military vehicles and trucks from 1896 until 1977. The company became part of the British Leyland Motor Corporation after being taken over by AEC before the brand was finally dropped in the 1970's.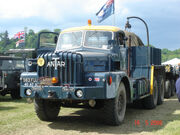 Thornycroft started out with steam vans and lorries. John Isaac Thornycroft, the naval engineer, built his first steam lorry in 1896. This was a 1-ton steam Van, that looks like a cross between a rail guards van and a closed horse drawn wagon. Their first petrol vehicle was in 1902 and the company completed the move into internal combustion engine power in 1907. (In Germany, Daimler build a production Gasoline engined truck in 1896). [1]
The company built cars for a short period of time after the move to Basingstoke and claimed to rival Rolls Royce for build quality. A number of examples are in the Milestones Museum in Basingstoke. Thornycroft built their own engines and all the other components used in there vehicles. Thereafter, the vehicle building firm and the marine side (later to become Vosper Thornycroft) were separate companies.
From 1931, Thornycroft used names for their vehicle range - often descriptive and colourful ones.
In 1946 as part of a plan to diversify following the end of War Works (building 20,000 trucks) they started to develop a Combine Harvester, and built a prototype in 1948. The design was by Eli Beavor, a local Agricultural engineer, rather than the firm's own designers. The machine had a 7 ft cut and a drum of virtual the same size. The machine was built from a lot of truck parts and had several design quirks as a result. They used a Thornycroft ER4 4-cylinder petrol engine of 65 hp (48 kW) mated to a 4 speed gear box and a truck axle, with the drum over the top thus making servicing a problem as well as being top heavy. They built approximately 6 prototypes before dropping the project. The machines were marketed as the "Beavercroft" combine in 1949, but then vanished.[2]
In 1948, the company name was changed to Transport Equipment (Thornycroft) Ltd to prevent confusion with the shipbuilding Thornycroft company. During the 1960s to the 1970s, the hit British sit com Dad's Army, a Thornycroft van was used as Jones the butcher's van.
They were taken over by Associated Equipment Company (AEC), by then Associated Commercial Vehicles Ltd and production was limited to the Nubians, Big Bens and Antars. ACV was then taken over by Leyland who already had a specialist vehicle unit in Scammell, another manufacturer of large haulage vehicles. Thornycroft's Basingstoke factory was closed in 1969 and specialist vehicles transferred to Scammell at Watford.
Today, the Thornycroft name is used by a builder of marine diesel engines for private and light commercial use- the engines being based around small-capacity engines designed by Mitsubishi. Despite Thornycroft being effectively closed down by Leyland, the operation's parent company is now the main provider of spare parts for Leyland-built marine diesels, which for many years were highly popular for use in canal barges and narrowboats (now a market making increasing use of the modern-day Thornycroft engines).
Beavercroft - 6 'Prototypes built with one known to have been sold.
Steam Lorries
Edit
1896 1 - ton steam van
1899 3 - ton Steam under type wagon
1899 4 - ton Steam Wagon
1909 - Thornycroft Gun Tractor - won MOD trials - 4 cylinder Paraffin engine.[3]
1909- chain drive up to 2 ton delivery vehicles. Engines two or four cylinder for different weight loadings and wheel base.
1914 - J-type - 3-ton for war office 5000 built 4-cylinder 40 hp petrol engine.
1920s - X-type - derivative of the J type.
1923 - A-type 1 1/2 tonner with Pneumatic tyres and electric lights
four-wheel drive artillery tractor for the army
A1 RSW / A3 RSW, an off-road capable rigid six-wheeler to an army specification, 1926[4]
QC / Dreadnought, 1930
12 ton rigid six-wheel chassis.[5]
1931 switched to Naming the models;
1935 - Bulldog - CE/GD4 - 4-ton petrol powered truck.
1945 - Nippy - 3-tonner
1949 - Sturdy - ZE/TR6 - 4/5/6 tonner 6-Cylinder diesel engine
1953 - Trusty - forward control 4 or 6-cylinder engine

Trusty VF 4 wheeler - 8 tonner
Trusty RF 6 wheeler - 12 tonner
Trusty VF 8 wheeler - 14 tonner
1956 - Trusty PK 8 wheeler - 130 hp. QR6MV diesel engine

1960 - Trident - RG/CR6/1 - 12 tonner powered by a 6-cylinder diesel engine.
1960 - Mastiff 4 or 6 wheeler
 ? - Strenuous
 ?- Tartar 6x4, both civilian & military versions
(see Thornycroft Bison for an unusual variant)
Amazon - 6x4 used for crane base
Big Ben
Bullfinch
Dandy
Hardy
Iron Duke
Jupiter - 6.5 ton
Mighty Antar Tank transporter, used by heavy haulage contractors, fitted with 18 ltr V8 'Rover Meteorite' Mk.101 engine of 250 hp.

85-ton Hauler
6 x 4 - 100 ton pipeline and tank transporter

Nubian

3-ton vehicle.
Available as 4 x 4, 6 x 4, 6 x 6

Speedy 2 1/2 tonner
Stag 12 ton fitted with a 100 hp. 6-cylinder gasoline engine and 8-speed gearbox.
Strenuous
Taurus
Chassis carriers for mobile cranes (see photo)
Bus and coach
Edit
Beautyride
Boudicea
Cygnet
Lightning
Patrician
Cars were built for a short period at the start of the 20th century 19?-19?, before the board dropped manufacture.
Military equipment
Edit
Depth charge launches
Aero engine parts
Torpedo rudders
 ?
Preservation
Edit
One chain drive truck  (AM2) with a two cylinder motor exists in Australia. That vehicle is complete and operational.  Parts for a similar vehicle have been located in New Zealand 

Very few examples of early Thornycroft vehicles exist, but a few of the later interwar and ex-military vehicle do appear at shows.
Reference
Edit
Initial entry from wikipedia.
External links
Edit