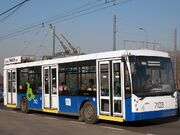 Trolza (ZАО "Троллейбусный завод" (Тролза)) is a trolleybus producer in Russia, located in Engels, Saratov oblast. In the Soviet era it was known as ZiU (Завод имени Урицкого), Zavod imeni Uritzkogo, plant named after Moisei Uritskiy.
The enterprise was originally founded in Imperial Russia, but it only began producing trolleybuses after 1951. ZiU/Trolza has built over 65,000 trolleybus vehicles and continues this business now. The most numerous models of ZiU production are MTB-82, ZiU-5, ZiU-9. All of them were exported to different countries of the world, including Argentina, Bulgaria, Greece, Mongolia, Hungary, Serbia etc.
Trolleybuses
References
Edit
Based on wikipedia article.
External links
Edit