For meanings of the word truck see also: Truck (disambiguation).
This list is intended to classify trucks and to provide links to articles on the various types. The three main classifications for road truck by weight are light trucks, medium trucks, and heavy trucks. Above this there are specialised very heavy trucks and transporters such as heavy haulers for moving oversized loads, and off-road heavy trucks used in construction and mining which are too large for highway use without escorts and special permits.
In the UK, trucks (lorries) are defined by the driving licence required. Heavy Goods Vehicles is a term normally applied to vehicles greater than 7½ tonnes. Drivers who passed their car test before 1997 can drive vehicles up to 7½ tonnes (8¼ tonnes combined with trailer), whereas car drivers who passed their test on or after 1 January 1997 are limited by EU Directive 91/439/EEC to "Category B" vehicles (having a Maximum Authorised Mass of 3½ tonnes).
Small trucks
Edit
Light trucks
Edit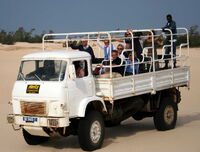 Medium trucks
Edit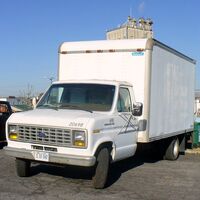 Some of the truck types listed under heavy trucks may also come in medium sizes.
The following are not types of trucks but types of use of the trucks listed above:
Heavy trucks
Edit
Except for semi-trailer trucks and, generally, mobile cranes, the following types may also come in medium sizes.
Very heavy trucks and transporters
Edit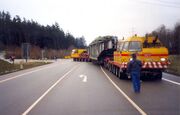 Vehicles in this category are too large for highway use without escorts and special permits.
Ad blocker interference detected!
Wikia is a free-to-use site that makes money from advertising. We have a modified experience for viewers using ad blockers

Wikia is not accessible if you've made further modifications. Remove the custom ad blocker rule(s) and the page will load as expected.