Ad blocker interference detected!
Wikia is a free-to-use site that makes money from advertising. We have a modified experience for viewers using ad blockers

Wikia is not accessible if you've made further modifications. Remove the custom ad blocker rule(s) and the page will load as expected.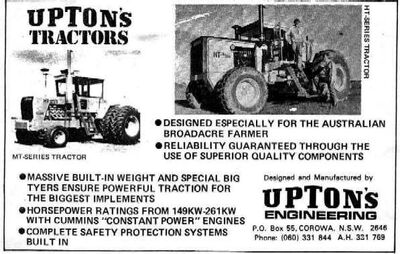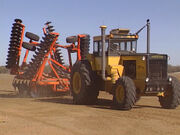 Upton's Engineering was an Australian builder of high-horsepower 2-wheel-drive tractors from 1968 to the early 1980s when the big brands manufacturers did not import suitable machines into Australia. Only a few local manufactures evolved from building one-off specials for there own use to building a few for other farmers. Upton was (and still is) based in Corowa, NSW, Australia.
The company was started by Arthur Upton in 1944 in Corowa, New South Wales, Australia. Today Upton Engineering manufactures solar tracking machines and centre pivot irrigators.&nbsp [1]
Model range
Edit
References / sources
Edit
External links
Edit
Upton tractor range

Upton Models
Early Makes - pre 1940s

1940s to 1980s

Modern post 1980s

Independents
North America

Europe

India & Pakistan

Middle East
(Turkey, Iran,
Iraq, Syria etc...)

Far East
(Australasia, China,
Japan, Korea, Thailand,
Vietnam etc...)

South America
(Argentina, Brazil,
Uruguay etc)

Africa

Asia
(Russia, Tajikstan,
Uzbekistan, Ukraine)

Specialist types of tractor

Notable People - associated with the tractor industry

Inventors