Valmet 565
Model history
Model introduced
1964
Model discontinued
1968
Model status
Discontinued
Engine Specification
Engine make
Sisu-Valmet
Engine model
310 A/B
Fuel type
Diesel
Power hp
52
Governed rpm
2300
Displacement cu in /(litre)
2685
No. of Cylinders
3
Bore in (mm)
100
Stroke in (mm)
114
Cooling system
Water
Naturally aspirated, Turbo or Supercharged
-
Transmission Details
Transmission type
6+2
Gearbox make
valmet
Drive
2WD
General Data
Fuel tank 40L
Linkage Category
Unknown
Lift capacity (lb/kg)
1350kg
Front Linkage
-
P.T.O rpm
540
Tyre Sizes (std/options)
Front
7,5-16
Rear
12,4/11-32"
Tractor Dimensions
Length (inches/metres)
300cm
Height (inches/meters)
138cm
Weight (nominal) lb/kg
1900kg
Turning circle (nominal) inches/meters
5,8m
Wheelbase
190cm
Other info
Factories
Tourulan tehdas, Finland
Plow rating

Unknown

List of Valmet inc. tractors
The Valmet 565 tractor was built by Valmet in the 1960s.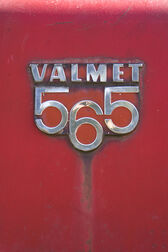 Model 565
Edit
In the autumn of 1964 was replaced by a renewed 361 565 has. Model number and told the High-End Model Year. Power was increased by 52 hp SAE mm. fan, pistons, nozzles and valves by changing the injection pressure. The most significant reform was, however, 2 3, and the turn and the turn of the synchronization region, which was the size class at that time unique. 565's road speed was relatively large, but also 1 change was very fast. Speed ​​contributed to the elevated rings.
The greatest change was the appearance of the radiator grille change pystyrivoitetuksi. The front axle was even stronger. New standard features were the foot of gas, tachometer, and tube shaped stabilizer chains. Double-Clutch was still optional. Generated the price of more than 10% more precursor. As of 1966, was an accessory to a hydraulic crawler gear.
Pictures and videos
Edit
References
Edit
Early Makes - pre 1940s

1940s to 1980s

Modern post 1980s

Independents
North America

Europe

India & Pakistan

Middle East
(Turkey, Iran,
Iraq, Syria etc...)

Far East
(Australasia, China,
Japan, Korea, Thailand,
Vietnam etc...)

South America
(Argentina, Brazil,
Uruguay etc)

Africa

Asia
(Russia, Tajikstan,
Uzbekistan, Ukraine)

Specialist types of tractor

Notable People - associated with the tractor industry

Inventors