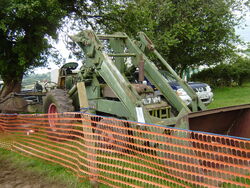 The firm of Weatherill was founded the late 1940s in North London by the Finance Director a Mr F.E. Weatherill formely of another similar company Chaseside. Their machines were also designed on a Ford Skid unit like many others, but was designed as a hydraulic loader, as opposed to rope operated on the Chaseside. The first model was the H1 prototype, in 1950.
By 1954 F.E. Weatherill Limited the whole name of this company has expanded and larger premises required. They moved to Tewin Road in Welwyn Garden City, Hertfordshire just outside London.
They started using original Ford components and engines but later moved to employ Perkins engines with Brockhouse transmissions, Twindisc or Clarke Transmissions and Leyland engines.
Model Range
Edit
Details of engines, power, capacity and year of build etc required, to add to this updated list provided by former weatherill company employee.[1]
UK Preserved Machines
Edit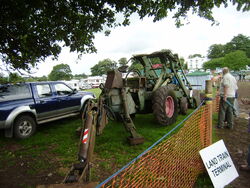 There are a few preserved, with a number still in use in coal yards around the country. A few still sit in the corner of the yard abandoned. But as sites get cleared and scrap prices rise are disappearing fast.They occasionally come up for sale in Classic Plant & Machinery Magazines for sale section, and other similar publications, or a clearance auctions going for scrap money.
List of Preserved Weatherill machines
Make + Model No.
Reg No.
(if known)
Serial No.
Build-Date
Engine-Type/Make
Owner
(if known)
Photo
Were seen/Featured in
Other info
Weatherill ? Loader
 ?
sn unknown
 ?
Ford
 ?
At Bromyard Gala 2008
Fitted with a Sherman backhoe






Please add any tractor with known reg or serial no. with Photo if possible.
Make & model
reg no
serial no
date built
engine
owner


 set to 150px


seen at
misc info
Create a page (link) for an individual tractor by linking the reg or serial number using reg number or serial number in the relevant column. Then once saved click the red link to start the new page and add info on that tractor.
Reference
Edit
External links
Edit