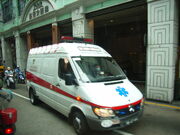 The Xinkai Auto Manufacture Corporation (新凯汽车) is a Chinese car manufacturer located in Gaobeidian. It was founded in 1981.
The company includes the head office in Gaobeidian, Hebei and a production and assembly line in Zhuozhou. Since 2004 the company is having an agreement with Mercedes-Benz to assembles the Mercedes-Benz Commercial Vehicle for the Chinese market. So they have built an separate production facility for the parts of the vehicles in Qinghe. The assembly line for the Mercedes vehicles is located in Tai'an and has also been built for this special purpose. Xinkai Auto produces 40.000 units annual according to the German Minister-President Kurt Beck.
The area of the company contains 80,000 square meters where 2.000 workers are employed. The annual production capacity of Xinkai Auto are 200.000 units (complete; 40,000 units of the Sprinter model variants)[1].
Model overview
Edit
References
Edit
External links
Edit
Ad blocker interference detected!
Wikia is a free-to-use site that makes money from advertising. We have a modified experience for viewers using ad blockers

Wikia is not accessible if you've made further modifications. Remove the custom ad blocker rule(s) and the page will load as expected.