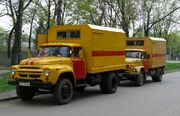 ZIL-130 is a Soviet/Russian truck designed and developed by ZIL, Moscow, Russia. It replaced the older ZIL-164. First prototypes were built in 1958. Produced since 1962, mass produced since 1964. Was one of the most popular cargo trucks in the USSR and Russia, in total ZIL made 3,380,000 up to 1994. Since 1995, production moved to the Urals Motor Plant (UamZ, and was renamed as the UamZ-43140).
Modifications
Edit
During all times of production there were two global modernizations of ZIL-130 in 1966 and 1977. After the second one the radiator enclosure was changed
Model variants;
ZIL-130 Prototype 1958
ZIL-130 Prototype 1962
ZIL-130-66 — modification 1966
ZIL-130-76 — modification 1976
ZIL-130-80 — modification 1980
ZIL-130 А
ZIL-130 В
ZIL-130 В1 tractor
ZIL-130 В1-76
ZIL-130 Г with longer base
ZIL-130 Г1
ZIL-130 Г1-76
ZIL-130 ГУ with extra long base
ZIL-130 ГУ-76
ZIL-130 Д
ZIL-130 Д1
ZIL-130 Д1Ш
ZIL-130 Д2
ZIL-130 Е
ZIL-130 К
ZIL-130 КШ
ZIL-130 Н
ZIL-130 С — Northern variant
ZIL-130 С-76
ZIL-130 Ш
ZIL-MMZ 130С
ZIL-MMZ 130П
ZIL-138 А — gas-container variant
Since 1986 in accordance to the branch standard OST 37.001-269-83 the ZIL-130 series received new indexes: ZIL-431410 (ZIL-130), ZIL-431510 (ZIL-130Г), ZIL-441510 (ZIL-130В1), ZIL-431810 (ZIL-138), ZIL-431610 (ZIL-138А), etc.
References / sources
Edit
External links
Edit

Ad blocker interference detected!
Wikia is a free-to-use site that makes money from advertising. We have a modified experience for viewers using ad blockers

Wikia is not accessible if you've made further modifications. Remove the custom ad blocker rule(s) and the page will load as expected.