Ad blocker interference detected!
Wikia is a free-to-use site that makes money from advertising. We have a modified experience for viewers using ad blockers

Wikia is not accessible if you've made further modifications. Remove the custom ad blocker rule(s) and the page will load as expected.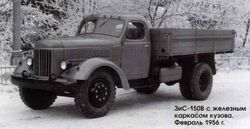 The ZIS-150 was a Soviet truck. In 1947 it replaced the ZiS-5 on assembly line. ZIS-150 together with GAZ-51 was the main Soviet truck of '50s, judging by their quantity. The cabin of ZIS-150 was similar with the cabin of International Harvester KR11 truck. In 1957, the base ZIS-150 model was replaced by ZIL-164, which differed outwardly only by vertical grille bars and bumper. ZiS-150 was also manufactured in Braşov, Romania between 1954-1960 under SR-101 badge at "Steagul Rosu" (Red Flag) and in China under Jiefang CA-10 badge at First Automobile Works. At least one prototype was built in North Korea under the the name "Chollima".
Years of production: 1947 - 1957
Overall production: 774615 units
Specifications
Edit
4x2 4000 kg truck
Engine: 90 hp/2400 rpm, 6-cyl, 5555 cc
Bore/Stroke: 101.6/114.3 mm
Length: 6,720 mm (264.6 in), width: 2,385 mm (93.9 in), height: 2,180 mm (85.8 in)
Wheelbase: 4,000 mm (157.5 in), rear axis clearance: 265 mm (10.4 in)
Front wheel track: 1,700 mm (66.9 in)
Rear track: 1,740 mm (68.5 in)
Turning radius on front outer wheel: 8.0 m (26 ft)
Compression ratio: 6.0
Clutch: twin disk, dry
Gearbox: 5 speeds
Weight (without load): 3,900 kg (8,598 lb)
Maximal speed (loaded, highway): 65 km/h (40 mph)
Tyres: 9,00x20 inches
Fuel consumption: 29 L/100 km (9.7 mpg-imp/8.1 mpg-US)